Getting to the Pacific paradise of Riviera Nayarit is a breeze whether you are venturing via the highway system or one of the two airports that service the region.
You can find driving maps and directions in the "By Land" section of Getting Here, and an extensive list of the current airlines and flights available from dozens of different major cities across Canada, the United States and Mexico. "Getting Here" is easier than ever!
By Land
The Pacific Motorway is the main access highway into the state of Nayarit.This roadway connects Tepic, the state capital, with other important cities of the country such as Guadalajara and Mazatlán.
From north to south, the state is crossed by Federal Highway 15, which goes from Nogales to Mexico City.
On the southern coast, Federal Highway 200 connects the main destinations of all of the municipalities of Banderas Bay and Compostela with Puerto Vallarta and Tepic.
In the north, Highway 54 reaches San Blas, and Highway 15 connects with Santiago Ixcuintla.
Among the numerous projects underway to generate growth along this tourist corridor is the establishment of an ambitious highway network, with an estimated investment of more than 7.8 billion pesos.
The roadways will be divided into four expressways: Tepic- San Blas, Tepic-Compostela, Compostela-Las Varas and Las Varas-Bucerías.
The Tepic-San Blas Highway reduces the driving distance between the capital of Nayarit and the Historic Port to only 20 minutes. Together with the new dock in San Blas, this coastal town will surely see a spike in domestic visitors.
Added to these routes will be the Jala-Puerto Vallarta freeway, which will spur even greater commercial and tourism growth, as well as the Tepic-Aguascalientes and Tepic- Zacatecas highways, linking the wonders of the Riviera with the center of the country.
The first stretch of the Jala-Bahía de Banderas Highway, from Jala to Compostela, was recently completed. The second and third sections are underway. This new 105-mile highway will reduce the drive time from Guadalajara to Riviera Nayarit's beach from five hours to approximately two hours.
Below is a distance listing: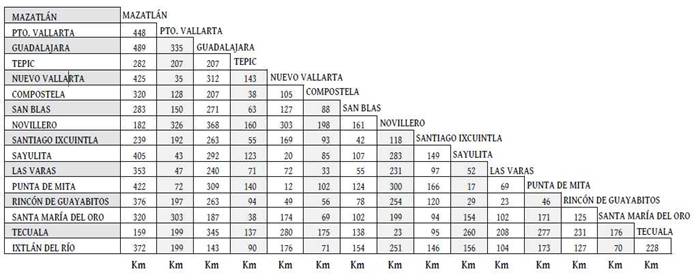 By Air
Flying to the Riviera Nayarit is easy and convenient for national and international travelers.
The Tepic International Airport and the Puerto Vallarta International Airport both await you with exceptional customer service and all the amenities required that ensure your arrival and departure will be pleasant experience.
The Tepic International Airport (TPQ) is located just 1 hour east of the resort coastal area of San Blas in Riviera Nayarit, Mexico's Pacific Coast's oldest sea port. Below is a list of the regularly scheduled airlines with service to Tepic as well as the cities they fly from.
Airlines that fly to Tepic International Airport (TPQ):
Aeromar Airlines from Mexico City
Volaris Airlines from Tijuana City
Puerto Vallarta International Airport (PVR) is located just 10 – 15 minutes from Riviera Nayarit's southern most resort areas of Nuevo Vallarta/Flamingos, 30 minutes from the resorts of Punta Mita, and Litibu, and approximately 1 hour from the area of Guayabitos.
With both National and International arrivals, this modern facility offers much for the traveler.
The terminal provides several snack bars and drink counters, rental car agents, banks for currency exchange, Duty-Free shops and tour information booths.
The parking lot offers short and long-term parking. Taxi service to and from the various hotels and resorts in the area is available at the front door and charter buses are provided for groups of travelers through their respective travel agencies and are located at the side doors. The airport also handles private jets as well as general aviation.
Airlines that fly to Puerto Vallarta International Airport (PVR):
Aerocalafia from Mazatlán and Los Cabos
Aeromexico from Guadalajara, Monterrey, New York and Mexico City
Air Canada from Calgary, Toronto and Vancouver
Air Transat from Montreal, Edmonton, Vancouver, Toronto, Winnipeg, Calgary, Regina, Saskatoon, Ottawa and Victoria
Alaska Airlines from San Diego, Los Angeles, San Francisco, Seattle, Portland and Chicago
American Airlines (US AIRWAYS) from Dallas Ft Worth, Phoenix and Chicago
Canjet from Toronto
Delta Airlines from Los Angeles, Salt Lake City, New York, Atlanta, Detroit, Seattle and Minneapolis
Finnair from Helsinki (Seasonal)
Frontier Airlines from Denver and Chicago
Interjet from Mexico City, Toluca, Guadalajara, Monterrey and Bajío
Magnicharters from Mexico City
Sun Country from Minneapolis and Dallas
Sunwing from Calgary, Edmonton, Toronto, Vancouver, Saskatoon, Winnipeg and Ottawa
Southwest from Santa Ana, Houston & Denver
TAR Mexico from Leon, Aguascalientes, Guadalajara, Monterrey, Morelia and Queretaro
Tui Thomson Airways from Manchester and Gatwick
United Airlines from Chicago, Denver, Houston, Los Angeles, San Francisco, Newark and Salt Lake City
Volaris from Mexico City, Tijuana, Monterrey y Guanajuato
Viva Aerobus from Mexico City and Monterrey.
West Jet from Calgary, Winnipeg, Saskatoon, Vancouver, Toronto, Abbotsford, Kelowna, Prince George, Victoria, Regina, Edmonton and Comox
*Gateways my vary depending on seasonality.